A collection of conversations with a diverse range of local and regional creatives


Library Conversations for SGABF2020
We examined the systems that support art book making and independent art book publishing in Singapore and the region.




A Closer Look for SGABF2019
We gathered perspectives on our zine and art book culture, and discuss the possibilities of self-publishing today.




21 Creatives for SGABF2018
We sat down with 21 creatives of various disciplines to learn about their practice and asked each of them to fill up a blank page in a notebook.


With the proliferation of zines, books and long form journalism, the Internet has become one of the most democratic spaces existing today. Internet users continue to construct their own identities through free interactions. Yet, new media censorship laws over the years have consistently challenged the idea of the internet as a 'free' realm. What are some costs we pay in producing and disseminating information online?
The tendency to publish works and carry out discussions on digital platforms have led to assumptions that the printed matter has migrated online. Digitisation is a complex phenomenon. It brings to the surface various reasons why people rely on digital and print formats. As opposed to seeing the two formats as single entities, it is imperative to evaluate how their collective functions have enabled new practices and mediums. we discover how two different groups, Singaporean zine publisher
Your Local Newsstand
and independent publisher
Temporary Press
, share similar processes in their use of new technologies to produce and distribute their printed works.
Photo: Zine collection by Your Local Newsstand, Courtesy of SGABF
The Internet has made it faster and easier for makers to propagate ideals, beliefs and their respective cultures. For Your Local Newsstand, technology has condensed the process of finding photographers from all around the world, constructing (or deconstructing) their identities via printed matter. Huda Azzis, founder of Your Local Newsstand says:
"We try to get stories that have a place in our current society, and reflect the cultural state of a particular area. It doesn't have to be political. It can be personal. We have stories from Gambia, Spain and London… It's a very exciting time."
Your Local Newsstand made their very first zine,
Portraits of People
, in 2018 where pictures were taken of people all around Singapore aged 10 to 60. For this project, the team went around asking people about their aspirations in life. "What's quite interesting about that project was that we realised that people don't stop dreaming. You have a 58 year old man still harbouring dreams of opening his own restaurant. It's a very universal concept," recalls Huda.
Through the digital circulation of these photographs, Your Local Newsstand caught the attention of readers and other zine makers on Instagram – successfully making use of the online platform with high connectivity to spread the message of their work.
Aside from promotion and outreach, it might be true that digital platforms provide an attractive solution to the hefty cost of physical printing. However, the process of turning to digital mediums isn't merely just about transposing printed content on a website. According to Gideon Kong and Jamie Yeo from Temporary Press, "It doesn't really make sense for us to publish a book in a similar fashion on print and digital. Instead, we are more interested to approach them differently and not directly adopt what works in a physical book or object for something that exists digitally."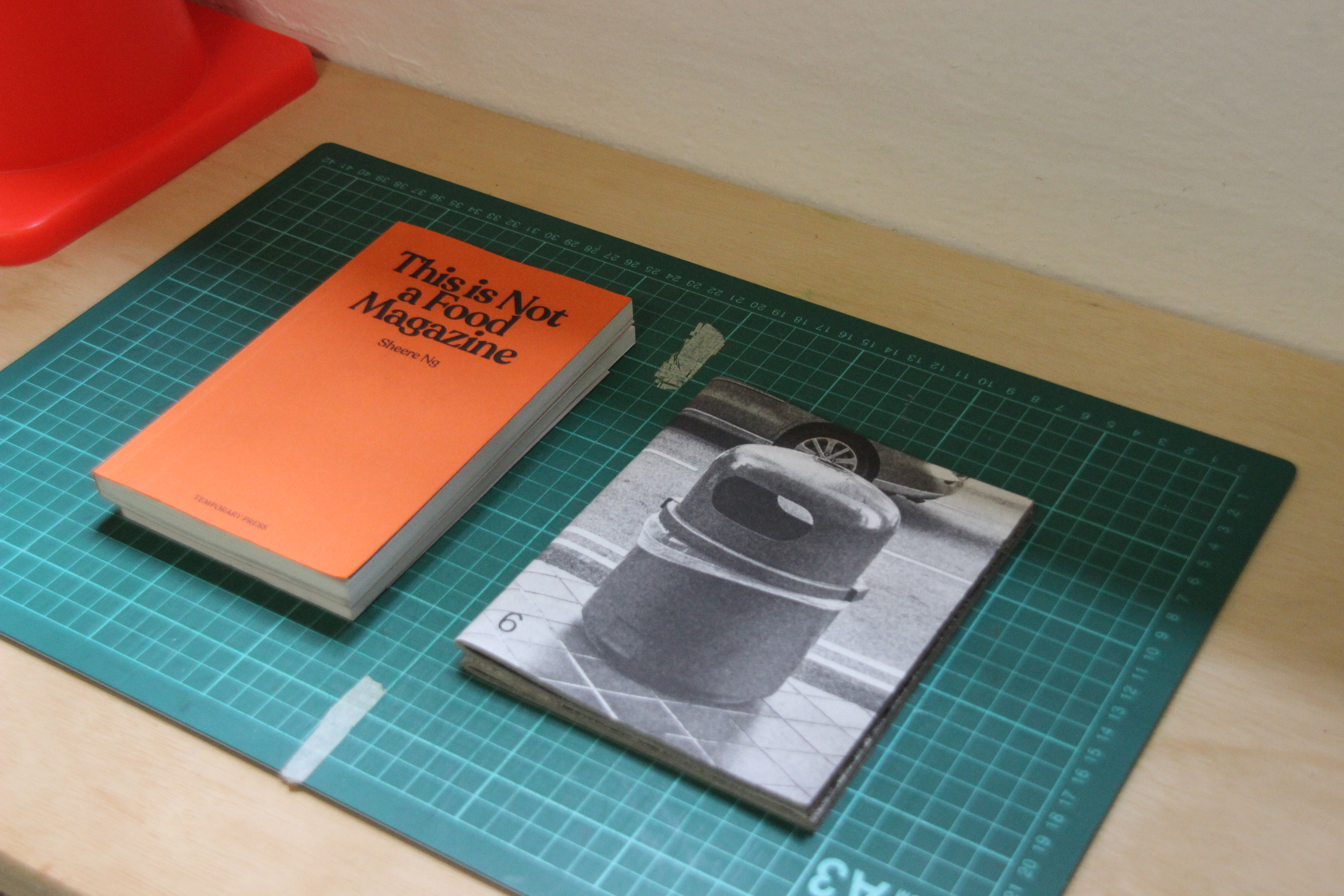 Photo Credit: SGABF
Similarly, Your Local Newsstand find themselves having to juggle the parameters of digital and printed formats. "Printing photographs on a zine means that the narrative is likely to develop in many different directions depending on how you curate and sequence them on the pages. That's something that most of our photographers enjoy exploring – how the significance of their work changes on print as opposed to keeping them on Instagram."
Photo: Zine published by Your Local Newsstand, Courtesy of SGABF
In Singapore, printers are beginning to notice that publishers and producers are becoming more self-reliant by handling their own print production. This has paved the way for newer forms of collaboration between printers and makers. For example, printers are now more open to adapt their requirements on a case by case basis if they see fit. Traditionally, each zine edition (comprising 30 copies) Your Local Newsstand produces would be considered too low. "However, when we approached our printer, he allowed us to print a variety of different zines, as long as they were able to make the minimum order quantity of 100 collectively," Huda clarifies.
Even though small publishers and producers have found a way around conventional requirements, printing is still considered a challenge for others. For Temporary Press, turning to risograph was borne out of economic concerns. "It allows us to produce low to medium quantities without the cost of offset printing, while also having the freedom to explore and expand possibilities the machine," explains Gideon and Jamie.
Photo Credit: SGABF
Even for them, interacting with printers involves a process of negotiation. "I think the process of working with printers may be more collaborative overseas but we are not entirely sure given our short experience as a press/studio. We observed instances where the printing expert sometimes take on a similar role to the designer, or come into projects as advisors and take on a key role in book production. For us, we generally try to develop a close relationship with printers in working towards more collaborative possibilities in the future."
However, digital expansion isn't just about greater collaboration or reliance on tools. Sometimes, it is about breaking the system of traditional modes to advance into new forms of creation. Gideon recalls, "We recently met a French artist who 'hacks' large inkjet printers and modifies their production capabilities to create works. For me, this questions how daily tools govern the way we produce, similar to how we are sometimes unaware of the ways digital softwares affect our work processes and even outcomes."
Photo: Studio of Temporary Press, Courtesy of SGABF
A bigger problem arising from the availability of digital resources is the degree of creativity exercised. This is a common dissatisfaction expressed by practitioners, particularly across art and design fields. Digital processes reduce time, but may end up limiting the work when one chooses to jump on a software and launch into creation process immediately.
As Gideon points out, "The Interior Design department of Glasgow School of Art wanted to put together a book containing models made by students. What we did was to print all the photographed models as double-sided loose sheets and "bind" them together with just a fold at the center, held together with a paper band. This format allows readers to reshuffle the pages and find unexpected pairings or create different model permutations. We wouldn't have thought of this idea if we started out developing the book straight from InDesign."
Today, the independent publishing scene has acquired its own standing away from commercial publishing. As compared to traditional publishing houses, independent makers are more attuned to using technology to reach out to specific audiences through collaborations and creative and social media marketing campaigns. On the other hand, traditional publishing houses continue to hold access to opportunities for greater financial investments and wider circulation around the world. In that regard, independent publishers find themselves having to straddle between both avenues until they find a satisfactory model that works.
Photo: Zines published by Your Local Newsstand, Courtesy of SGABF
"The mainstream route is totally different. We are dealing with different levels of overheads as compared to a big publisher. For the first zine that we published, we produced 100 copies. The quantity is too high for a scale like Your Local Newsstand. The current edition of 30 per zine works for us because we don't have the luxury of storage space. Independent producers have to figure out what's good for them based on their circumstances and goals," Huda advised.
With a practice that also produces occasional work for commercial clients on top of initiatives like Temporary Press, Gideon and Jamie's operates using a different model.
"We agree that generally, commercial presses have to consider profits but it is the same for us. We also hope to make things sustainable for both our collaborators and ourselves. There is often a general assumption about the divide between the 'commercial' and 'independent' regarding the quality and types of work. However we might label or define them, there are bound to be both 'commercial' and 'independent' publishers/presses occupying the broad spectrum of good/bad quality or interesting/boring works. Probably the difference for us is that we are able to pursue less conventional approaches or subjects that might seem to be too risky or specialised for larger commercial presses, though not all."
Photo: Collection of books by Temporary Press, Courtesy of SGABF
The convergence of digital and print has trickled into the way we plan and work. By providing users with the power to access knowledge from a wide pool of resources, the digital sphere has changed our principles drastically. When challenged with new rules, traditional gatekeepers can no longer dominate spaces, communities and industries in their own capacity. This brings upon structural changes in publishing and media consumption, where the roles of producers, publishers, librarians and curators expand over time. Similarly, niche positions such as designers have stepped up to become authors. Such opportunities allow individuals to broaden their disciplines, creating a cyclical nature for new practices to manifest.
© Singapore Art Book Fair 2022. All rights reserved.
For further enquiries, please contact us at
info@singaporeartbookfair.org
.
Singapore Art Book Fair & Cut Copy Paste is organised by
Support the fair ︎
© Singapore Art Book Fair 2021. All rights reserved.
For further enquiries, please contact us at
info@singaporeartbookfair.org
.
Cut Copy Paste 2023 is organised by
Support the fair ︎